World War One Trivia
Beef up your knowledge of World War I with this 25 Interesting Facts video from List25. We've also collected a dozen random Jeopardy! clues — they are in addition to the video, and they are not necessarily in war categorie.
ALL THE GLITTERING PRIZES $1200: This World War I U.S. Army general won the Pulitzer Prize for history in 1932
WORLD WAR I $2000: The Allies suffered around 250,000 casualties trying unsuccessfully to reopen this strait also known as the Hellespont
BALLPLAYERS IN UNIFORM $1200: During World War I, this ferocious Tiger made a peach of a U.S. Army captain
VETERANS $800: In 1932, at the height of the Great Depression, thousands of World War I vets known as this "Army" marched on Washington to demand payment of urgently needed benefits
NOTABLE WOMEN $1000: As queen of the Netherlands, she saw her country through 2 World Wars
W. SOMERSET MAUGHAM $1200: "The Hairless Mexican" & "The Traitor" are 2 of Maugham's stories drawn from his exploits as a spy in this war
WORLD WAR I $2000: In early 1918 this French general was named Supreme Commander of the Allied Forces on the Western Front
FRENCH COMPOSERS $1600: A decade before composing "Bolero", he served as a driver in World War I
SHE-ROES $1000: Profession of Edith Cavell, executed during World War I for helping allied soldiers escape German-occupied Belgium
THE ONLY PRESIDENT WHO… $800: served on active duty in the Army during World War I & World War II
The last two were FINAL JEOPARDY clues:
"FIRST" PHRASES: The earliest known use of this term was in an Indianapolis Star opinion piece of September 20, 1914
HISTORIC ROYALTY: These two men seen here, allies during World War I, were sometimes mistaken for each other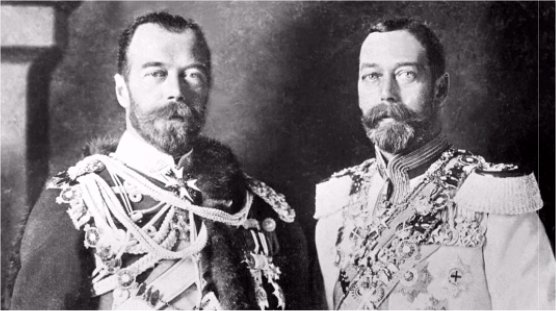 That last one was recycled in the April 15, 2016 match as this $200 clues in ODDS & ENDS: Note the family resemblance between (the name of the man) on the right and this first cousin on the left.