Wheel of Fortune: Wheel Across America 2018
It's Wheel Across America Week on Wheel of Fortune and we're posting the Bonus Puzzle with the winner's final prize amount. By way of comparison, the Jeopardy! payoff is also included with a link to the recap of that game.
Mon 1-29-18 Wheel: $60,750
On Jeopardy: $20,999


Tiwana Morrison got an H out of her consonants and two instances of her vowel. It may not have looked very promising to Pat Sajak but Tiwana reeled off the answer faster than you can say Indiana Jones! She got an extra $35K to plump up to her $25,750 winnings from the main game. What a nice way to start the week.
Tue 1-30-18 Wheel: $22,450
On Jeopardy: $21,000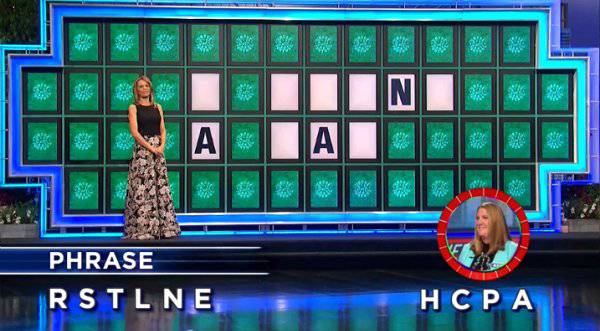 Keri Boyd got a bonus puzzle with only one letter supplied! She got no consonant help from her letter picks but she did get two A's with her vowel. It wasn't enough and she lost out on an extra $35,000. It could have been worse– the million dollar wedge was in the Wheel!
Wed 1-31-18 Wheel: $16,050
On Jeopardy: $25,400


Cara McLaughlin only got a G and an O from her letter picks but they strategically filled in two blank spots between E and N in the second word. Alas, even that didn't help Cara out and she went home without the $35,000 Pat was holding.
Thu 2-1-18 Wheel: $15,100
On Jeopardy: $22,799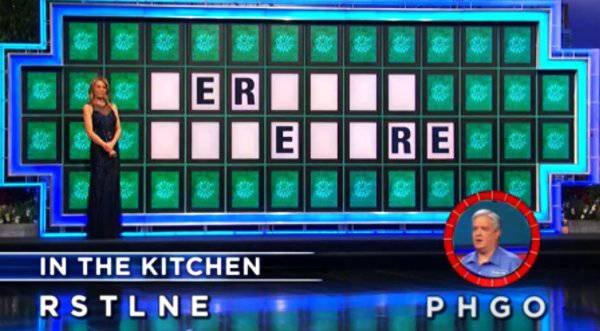 David Franks got zero help from his letter choices. Amazingly, he was still able to figure out the first word right away but got hung up on the last one. So that meant no $35,000. Major props to David nonetheless, not only for that first word, but for his stellar Barney impression during the intros.
Fri 2-2-18 Wheel: $23,350
On Jeopardy: $11,899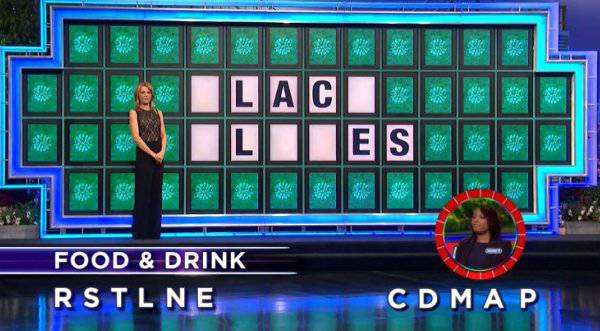 Anginette Browder had a Wild Card for an extra consonant but she only got a C out of it. Her A vowel was in there too. So she knew the first word but the last word threw her off course. In such situations, do you ever wonder why the contestants don't run through the other vowels first as a possible start? That might have helped. She lost out on $35K.
SOLUTIONS: show