Tony Curtis and His Wives (Photos)
Actor, Tony Curtis, passed away on Tuesday, September 29, 2010 to the sadness of many. His daughter, Jamie Lee, issued a statement that said: "My father leaves behind a legacy of great performances in movies and in his paintings and assemblages. He will be greatly missed."
Tony Curtis was married 6 times (supposedly) and we've got some pics of his wives, but before that, let's look at what a total hottie Tony was back in the day.
Of course, Tony Curtis' wife, Janet Leigh is the most famous to Americans.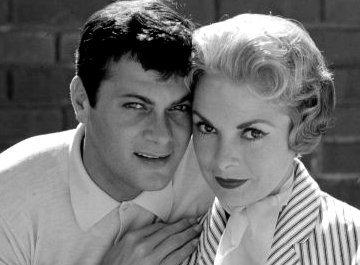 She was the actress killed in the shower scene of "Psycho," (still married to Tony at the time). And his daughter, Jamie Lee, is the most famous of his children, with her many movies starting out in horror flicks in 1978 with "Halloween" and "Prom Night." We were surprised to see reports of Jamie not getting along with her father since she appeared on The Joy Behar Show just a few week ago, telling Joy that it was not a case of 'not getting along' with him, she didn't even know him. She was only 3 years old when her parents divorced in 1962, and he was just never there even during those first 3 years of her life. She didn't get to know him till she was much older and said they are cool with each other now. Tony and Janet also had a daughter, Kelly, whose middle name is also Lee. She is older (and taller) than Jamie Lee. Jamie Lee and her husband, Christopher Guest, have two adopted children, Annie and Thomas.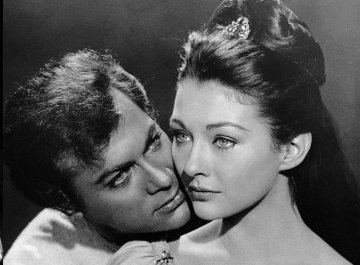 In Europe, Tony's second wife, Christine Kaufmann is just as well-known as Janet Leigh was in America. Christine was a child star, becoming famous at age 9 in a German film, who first came to America's attention starring with Steve Reeves in The Last Days of Pompeii (1959) and Kirk Douglas in Town Without Pity (1961). She was 17 when she met and fell in love with Tony Curtis while filming Taras Bulba in 1962. They had to wait to be married until Christine was 18 in 1963. They divorced in 1967.
Their daughters, Alexandra and Allegra have appeared in German productions, sometimes with Christine. Christine has her own line of cosmetics that sells well in Germany. Allegra Curtis has one son, Rafael (or Raphael). Curtis has another grandchild, Ailena, but we don't know if Alexandra or Allegra is her mom.
Tony Curtis married model, Leslie "Penny" Allen next in 1968. They had two sons, Nicholas and Benjamin, but divorced in 1982. Tragically, Tony and Leslie lost Nicholas to drug addiction in 1994 when he was only 23.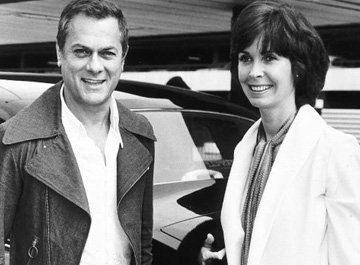 Andrea Savio was Tony's fourth wife, reportedly from 1984 until 1992. This is the marriage some say never happened and was a fiction promoted by Tony himself. Whatever, here they were out and about as a couple.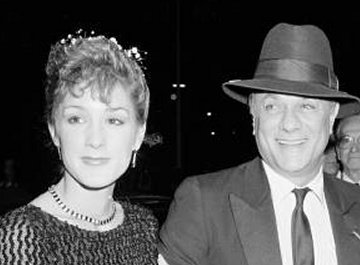 Tony's fifth wife was attorney, Lisa Deutsch. This was apparently, Tony Curtis' shortest marriage, from 1993 until 1994.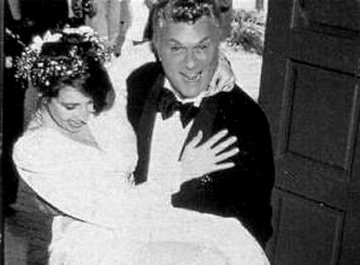 Tony's last marriage to Jill Ann Vandenberg, which began in November of 1998, endured until he passed away. Tony had no children from his last three marriages.