Ronnie and Sammi's Last Fight
Ronnie Magro and Sammi "Sweetheart" Giancola had their last fight of the season, mainly because Season 2 of the Jersey Shore is over, and they probably needed to remind everyone why they were on the show to begin with– to be the lovebirds who have senseless squabbles.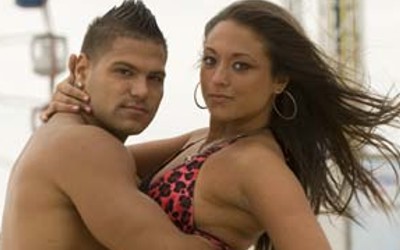 According to Ronnie Magro, these things happen because Sammi turns into Mr. Hyde. If there is no drama going on, Sammi will create some between them. There are women who pick fights with their guys just because they like the making up part. It is the natural evolution from a bygone century when a woman would "accidentally" drop her handkerchief or glove (who carries either nowadays?) so the man could pick it up and, according to the older matrons "feel like a hero." Sammi could try dropping her tanning lotion but we think that even if she threw it at Ronnie, he is more about being right and either doesn't know how or doesn't want to play hero to damsel, Sammi.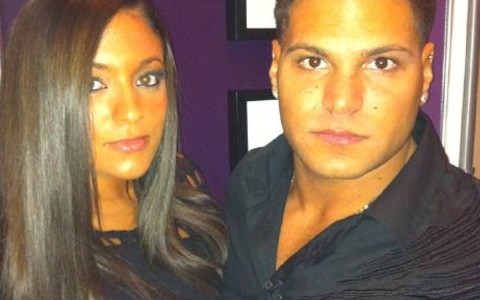 In any event, here are the two lovebirds in a recent photo from Twitter, which got them some comments that said:
"Can She Ever Push Her Hair Back?"
"…omg !! I LOVE you both..stay together please …the best couple ever !!"
and our favorite:  
"you two seem really happy…"
Really happy?? Honestly, they look like they are going to a funeral.
A lot of people are bored with the Jersey Shore and many think it has jumped the shark already, but if you are a die-hard Jersey Shore fan, Season 3 of the Jersey Shore will premiere on MTV on January 6, 2011. Deena Nicole Cortese will be the new roommate taking Angelina's place and, as we all already know, it was filmed back in Seaside Heights, N.J.