Rangers Pitcher Matt Garza Apologizes for Twitter Rant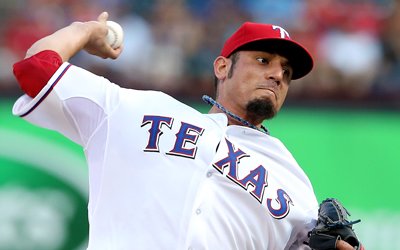 The latest athlete to find out that social media rants are a bad idea is Texas Rangers righthander Matt Garza. Garza started the Rangers' August 3rd 4-2 loss against the Oakland Athletics, who won in large part by bunting four times, three of which were sacrifices.  After Oakland second baseman Eric Sogard successfully bunted in a run on a squeeze play, Garza yelled something at him. 
After the game, Garza couldn't leave it alone and went on a Twitter rant about Sogard and his wife Kaycee, who had apparently Tweeted something herself that Garza didn't like.  In one Tweet, Garza quipped "certain people can't shut there (sic) women up". Even though Garza's account was protected (Tweets not visible to all) the Tweets still found their way out.
Texas management apologized to the Sogards and to the fans for Garza's rant, and eventually Garza did too, saying he let his "passion" and "fire" get the best of him.  Eric Sogard said they were treating the rant as a joke.
Garza does indeed have a reputation as a firebrand out on the mound, and he also has a reputation as a not so good fielder.  The Athletics simply exploited this weakness to score some runs, which is smart baseball and one reason why Oakland is in first place despite not having a bunch of big name players.  If Garza doesn't like the opposition bunting on him, then maybe he should learn to field his position better