Paulina Gretzky Engaged to Golfer Dustin Johnson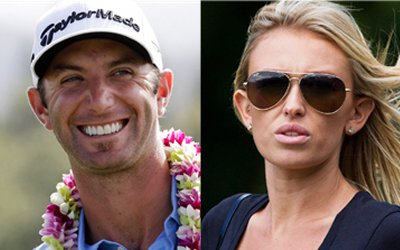 The latest chapter in the Pro Athlete Engaged to Model saga involves PGA golfer Dustin Johnson.  The 29 year old Johnson, who has been on the tour since 2007, is engaged to model / sometimes singer /occasional actress Paulina Gretzky, 24, daughter of retired hockey superstar Wayne Gretzky.
The two announced their engagement via Twitter, along with her Rock of Gibraltar sized diamond engagement ring.  Paulina, who photographs real well, hasn't been afraid to flaunt her good looks in the past.  She famously displayed her attributes in racy photos on Twitter a couple of years ago until her father got her to shut down that account.  Johnson has one PGA tour victory in 2013, winning the Hyundai Tournament of Champions in Hawaii back in January.  He finished eighth in the PGA Championship earlier this month.