Marilyn and JFK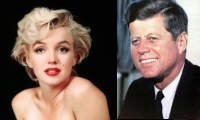 Another fellow has popped up on the radar claiming to be the son of ex-President, John F. Kennedy. 53 year old New Yorker, John R. Burton, has filed a lawsuit seeking a share of the late President's estate. The lawsuit states, "In his will, each child of President Kennedy was to receive a certain amount of money each year pursuant to the terms in said will."
Mr. Burton wants DNA tests which he believes will confirm not only that JFK was his father, but his mother was Marilyn Monroe. The Kennedy estate's position is that the litigation is "frivolous".
John F. Kennedy had 3 children who survived birth with his wife Jackie Kennedy: Caroline, John Jr., who died in a plane crash in 1999, and Patrick, who was born while Kennedy was in office. The nation mourned along with the First Family when he only survived 2 days. Mrs. Kennedy also gave birth to a stillborn daughter, Arabella, in 1956, after suffering a miscarriage the previous year.
Earlier this year, a Texas man, Jack Worthington, was being investigated by Vanity Fair magazine to determine whether he might be Kennedy's illegitimate son, but Worthington has said he would not make the claim without 100% positive DNA evidence.
Other Love Child Claims:
Successful: Jett Williams – daughter of country legend Hank Williams and Bobbie Jett, did not find out who her parents were till she was in her 20s.
Unsuccessful: French singer and actor, Yves Montand's body was actually exhumed in 1998 to prove or disprove the claims of Aurore Droussard that he was her father. Montand (another one of Marilyn Monroe's lovers) admitted during his lifetime that he had an affair with Droussard's mother, but denied till his death that he was her father. DNA tests proved he was not her father.