Joan Collins Puts Kabosh on Shirley Jones Memoir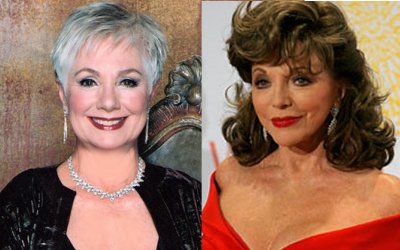 Shirley Jones may have had a sexy racy life with her husband Jack Cassidy, but actress Joan Collins says that none of it included her. Collins, who is 80 years old, had her attorneys send a cease and desist letter to Jones' publisher, Simon & Shuster, demanding that the part where Jones claims that Collins' husband, Anthony Newley, suggested that the two couples indulge in a 4-way orgy. 79-year-old Jones recounts this story in the already published book "Shirley Jones: A Memoir," saying she declined the invitation.
Collins says that the whole thing was made up. She was never going around humming "Me and Mrs. Jones."
Simon & Schuster has agreed to remove Collins' name from all future editions of the book, including e-books, but they can't do anything about the books already on shelves.
But even without Joan Collins in her book, there's plenty of stuff left for those who want to read all about the real Shirley, a far cry from the wholesome head of the Partridge Family. Just be glad you're not one of her kids. Lord knows what she would write about you in a book!