Jesse James – Outlaw and Folk Hero
Inarguably the most famous Jesse is the legendary outlaw Jesse Woodson James. Jesse is the father of David in the Bible. Jesse James' father, Robert, was a Baptist minister. Robert was also the name of the "dirty little coward who shot at Mr. Howard" and killed Jesse James.
Jesse or Yishay is a Hebrew name, meaning God exists or God's gift. Nowadays, the name is considered unisex, but you will probably still find more male Jesses than female. The female spelling is usually, Jessie, and it's used even more frequently as the nickname for Jessica.
One of hip hop mogul, Sean "Diddy" Combs' twin daughters is named Jesse James or Jessie James. Can't figure out which is the definitive spelling. Maybe one of his new assistants knows.
Actress Beau Garrett is listed on imdb as Beau Jesse Garrett and in wikipedia as Beau Jessie Garrett.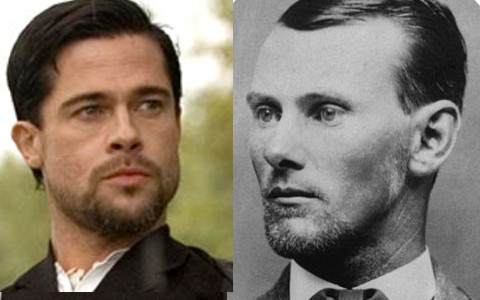 The real Jesse James latest screen portrayal was by Brad Pitt, but the bandit has been seen in films for close to 90 years. His son, Jesse James, Jr. played him in "Jesse James Under the Black Flag" and "Jesse James as the Outlaw," both in 1921. Some of the other prominent actors who have played him on film are Tyrone Power, Roy Rogers, Clayton Moore (a.k.a. The Lone Ranger), Audie Murphy, Macdonald Carey, Robert Wagner, Robert Duvall, Kris Kristofferson, Rob Lowe and Colin Farrell.
On TV, Jesse was portrayed by Lee Van Cleef in 1954's "Stories of the Century," the first western series to win an Emmy Award. In "Little House on the Prairie," the James Brothers showed up in Walnut Grove in one 1977 episode, "The Aftermath." Michael Landon saw a lot of historical characters showing up in the Wild West on his first hit show, "Bonanza," though we don't think Jesse James was one of them.
More Famous Jesses:
Jesse Owens, winner of 4 gold medal at the 1936 Summer Olympics in Berlin, Germany
Jesse Jackson, American civil rights activist and Baptist minister
Jesse "The Body" Ventura, ex-wrestler and ex-Governor of Minnesota