11 Jeopardy! Clues June 8, 2016
Here are 7 triple stumpers from the 6-8-2016 Jeopardy! match.
BEST MUSICAL ACTOR TONY WINNERS ($800) 2003: As Edna Turnblad in "Hairspray"
DOUBLE "R" ($1000) From the Latin for "parch", it's the warm zone between the Tropic of Cancer & the Tropic of Capricorn
DIRTY BIRDS ($1000) Yeah, baby! This "C" bird that produces guano, valued as fertilizer, is also called a shag.
"T" MOBILE ($1600) A 1988 film told of this man and his dream of building cutting edge cars like the one seen here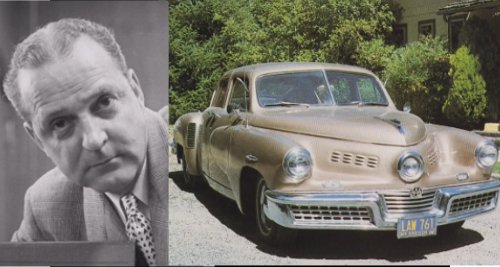 ($2000) The name of this compact SUV from Volkswagen suggests that it's part big cat & part lizard
LAKES & RIVERS ($2000) Only 2 letters but more than 2,200 miles long, it flows across Russia to the Arctic Ocean
ROBOT CHECK-IN ($1200) Thanks to DreamWorks, this Defender of the Universe is bringing cosmic justice to NetFlix screens in a 2016 reboot

The players got these 4 clues in "THE BOOK BOOK":
($400) "The Red Book of Guerilla Warfare" by this Chinese revolutionary laid out his theories & tactics
($800) The "Day" medieval English folk thought the world would end; it comes before "Book" in the name of a tome that counted them
($1200) This ancient Egyptian text tells what to do to ensure one's entrance into the afterlife.
($2000) "Steal This Book" by this Chicago Seven man is a handbook for the aspiring Yippie revolutionary
Today's Daily Doubles and more information on Final Jeopardy! on Fikkle Fame's full Daily Recap