11 Jeopardy! Clues January 4, 2018
Here are 7 triple stumpers from the 1-4-2018 Jeopardy! match.
AT THE YARD SALE ($200) In 1832 Eugene Lami designed a prototype of this for female dancers & at the 2017 yard sale, a used one is yours for a buck
PAINT MISS, BEHAVING ($600) Rembrandt liked to depict his wife as this goddess of blooming plants. Note the garland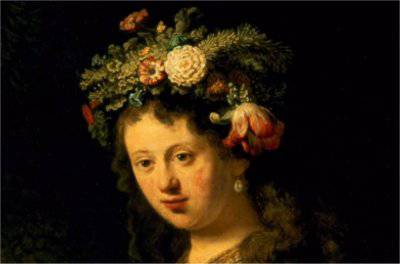 CLICHES MADE FANCY ($1000) One ziggurat as an incarnation of brawn
THE MEH DECADE ($1200) aka the Edwardian era, according to Virginia Woolf it was the last decade before a basic change in human character
IN THE DICTIONARY ($1600) Anguilliform means resembling one of these aquatic creatures
($2000) This type of amulet gets its name from the late Greek for "perform a rite"
GOVERNMENT AROUND THE WORLD ($1200) In Germany the 2 houses of government are the Bundesrat & this similarly named lower chamber
The players got these 4 clues in HELP! TV POLICE! Sean left the category after the $800 clue, and they never got back to it.
($200) In 1991 S. Epatha Merkerson guested as Mrs. Winters on this NBC show; from 1993 to 2010, she starred as Anita Van Buren
($400) This police chief — "Mrs. Simpson… your husband was found D.O.A….oh wait, I meant D.W.I.! I always get those 2 mixed up!"
($600) Cheers! As Marty Hart on "True Detective", this actor had to make some sense of Matthew McConaughey
($800) As Frank on "Police Squad", he said to a grieving widow, "We would've come earlier, but your husband wasn't dead then"
Today's Daily Doubles and more information on Final Jeopardy! on Fikkle Fame's full Daily Recap