8 Jeopardy! Clues January 19, 2017
Here are 3 triple stumpers from the 1-19-2017 Jeopardy! match.
ADJECTIVAL DESCRIPTION ($1000) Ambiguous, or the adjective regarding
…
(the 3 dots above)
IT GROWS ON TREES ($2000) If you watch Food Network you may recognize the fruit of this Asian tree, said to be the smelliest in the world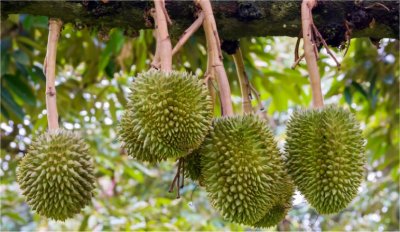 SILENT "O" ($2000) A passage in Proverbs states "Where this is no vision" they "perish"
The players got the $400 and $1600 clues in the IF THEY MARRIED category:
($400) If Blondie's lead singer wed "Bruce Almighty" star Jim & hyphenated her name, she'd be this suicide blonde.
($800) If Swedish actress Ekberg married the German author of "Death in Venice", she might still be lonely & say…
($1200) The union of 2 Smiths, the Colts lineman & the "On Beauty" novelist, would get this Yiddish pair of grandparents
($1600)If longtime Architectural Digest editor Rense had wed Ted of CNN fame, she'd be this type of fast-reading book
($2000) NPR's Melissa weds "Bridget Jones" co-star Hugh & her 2-part last name is this chunk of money given by Uncle Sam
Answers show
Today's Daily Doubles and more information on Final Jeopardy! on Fikkle Fame's full Daily Recap