Jack LaLanne Succumbs to Pneumonia at Age 96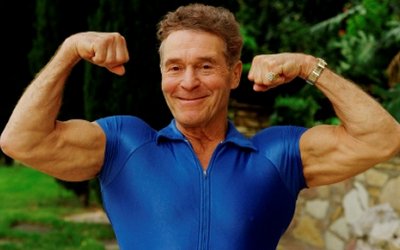 Fitness guru, Jack LaLanne, has passed away at the age of a 96 at his home in Morro Bay in California after a brief illness. The cause of death was pneumonia.
See symptoms and causes of pneumonia here.
His daughter, Yvonne LaLanne said that her father "was surrounded by his family and passed very peacefully and in no distress …. She indicated that her legendary father had continued to remain active up until a few months ago, in keeping with the active lifestyle he always promoted and lived. Ms. LaLanne said his recent activities included taping a recent public TV special.
Jack LaLanne was born on September 26, 1914 in San Francisco. He was the son of French immigrants, and his birth name was Francois Henri. As a teenager, Jack LaLanne had big problems with his diet. He reportedly set fire to his parents' home and attacked his own brother with an axe because of hyperactivity and mood swings caused by too much sugar in his diet. His mother took him to hear a health lecture being given by Paul Bragg when he was 14 years old, and this was the beginning of a new diet and a future in health and fitness that remains as fascinating as it is amazing.
In 1936, he opened the first modern health club in the nation in Oakland, California. With a gym, juice bar and health food, it became very popular and LaLanne expanded across the nation.
For 34 years, beginning in 1959, "The Jack LaLanne Show" demonstrated and preached the values of eating right and exercising.
There was no slowing him down as he got older either.
At age 41 he swam from Alcatraz to Fisherman's Wharf in San Francisco while wearing handcuffs;
At age 45, he did 1,000 push-ups and 1,000 chin-ups in one hour and 22 minutes with blisters under his calluses;
At 60 years of age, he again swam from Alcatraz to Fisherman's Wharf handcuffed, only this time he was towing a thousand-pound boat; and
At age 70, he towed 70 boats holding 70 people for a mile and a half across Long Beach Harbor, again handcuffed and shackled.
Whew! It would have been an amazing feat even without the handcuffs and shackles.
Even into his 90s, Jack LaLanne continued to exercise for two hours a day. "You eat every day, you sleep every day, and your body was made to exercise every day," he said.