Idol Shocker: Lambert in Bottom Two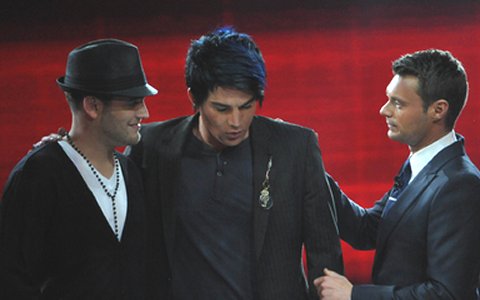 Sometimes you just have those jaw-dropping moments on American Idol, like when Chris Daughtry went home, and tonight there seemed to be a couple of those moments as well, both revolving around Adam Lambert.
First of all, Adam found out that not everyone thinks he's the shiznit.
With the usual boring 'let's put you on the spot first' shtick, Ryan asked him which group he thought he belonged in when the 4 others were divided into 2's with Allison and Danny on one side — Chris and Matt on the other.   Well, duh, like we don't know which of those groups got more votes.  Adam tried to wriggle off Ryan's hook at first and just when Ryan was about to let him go, he put his foot in his mouth by saying if it was based on the night before, he belonged with Danny and Allison.  And if it was based on the previous night's performance, he did indeed belong in that group.  But, embarrassingly enough, he turned out to be in the bottom three.  This was a mouth opener, if not jaw dropper for judge, Kara DioGuardi.
Of course, it's possible that thinking he would be in the Top 3 will be perceived by some as conceit, and thinking that he is better than that cute little Chris, but all Adam really needs to do is look at some past Idol seasons to realize that he is just too polished to win, and that it may even be a blessing in disguise, in case that wasn't driven home already by the appearance of Taylor Hicks.
Then when, inevitably, Matt was announced as the lowest vote getter, unless our eyes deceived us, it looked like Adam tried to kiss him on the cheek!  We couldn't tell for sure if Matt pulled away or pushed Adam away without replaying the moment, but nah — nothing in these elimination shows has ever been worth rewatching, except the Chris Daughtry moment.