Hosni Mubarak Out of Jail
Former Egyptian President Hosni Mubarak is out of jail because under Egyptian law, they can't keep him locked up anymore. Taken form Tora prison to a hospital by helicopter, the 85-year-old former Egyptian president is expected to be put under house arrest. He still has to contend with charges of corruption and complicity in the killing of demonstrators during the protests that took him down in 2011, but he has served the maximum time allowed for pre-trial detention.
Egypt remains in turmoil since the army ousted Islamist President Mohammed Morsi this past July, and many see Mubarak's release as a sign that the military wants to put him back in power. Some would welcome it, believing that the country was better off under Mubarak's leadership. "He protected the country," Lobna Mohamed, a housewife in the crowd of Mubarak supporters outside the prison was quoted as saying by Reuters.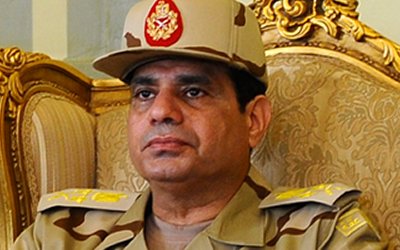 Another said that Mubarak is "a good man," but what they really want is Abdul Fattah el-Sisi, the head of the armed forces, to be in power.
Well, let's face it, even if Mubarak wasn't facing more charges and such, he's an old man, and el-Sisi is 58 years old. That's a little older than Mubarak was when he first rose to power. Do you think el-Sisi could be like Mubarak II and still be around in 30 years? Just saying.
Right now it looks like el-Sisi is either much shorter than Mubarak or else he just has a bigger gold chair.