Flyers' Claude Giroux Injured While Playing Golf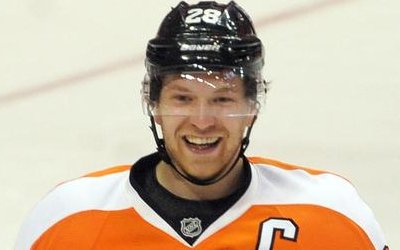 Over the years professional athletes have suffered numerous injuries in their sports' off seasons. We've heard of cuts while using knives in the kitchen, car and motorcycle accidents, guys hurting themselves while playing with their kids, injuries while playing basketball, and so on.  Philadelphia Flyers center and team captain Claude Giroux broke new ground when he seriously injured a finger while playing golf August 15th.
"It was just a freak thing" Giroux said, stating the obvious.  Seems he took a swing that hit the ground just behind the ball.  The club handle shattered and gouged a cut in his right index finger.  The cut was so bad it required surgery to repair some tendons.  Giroux didn't say if he took a normal swing like any other golfer (and thereby giving golfers everywhere something else to worry about) or if he cranked it up like a slap shot.
With a five to six week recovery period, Giroux will likely miss the start of training camp which begins September 12th.  The Flyers open the regular NHL season on October 2nd, so Giroux should be ready by that time.