Final Jeopardy: World Geography
The Final Jeopardy question (6/24/2013) in the category "World Geography" was:
Names of the 2 geographical features on a 2012 postage stamp issued jointly by Nepal & Israel
5-day champ Andrew Moore starts his second week as the Jeopardy! champ after winning a whopping $131,003 last week. Today he takes on these two players: Joel Hart from Los Angeles, CA; and Britta Waller from Greensboro, NC.
Andrew found the Jeopardy! round Daily Double in "6-Letter Elements" before the first break. Even after losing 1K in the same category, he was still in the lead with $1,200, $400 more than both Britta and Joel, tied in second place. He made it a true Daily Double and he was RIGHT.
It's used to vulcanize rubber & to make gunpowder. show
Andrew finished in the lead with $7,600. Britta was second with $3,000 and Joel was last with $2,200.
By using Andrew's strategy of playing from bottom to top, Britta found the first Double Jeopardy Daily Double in "The Country's Major Religion" She was in second place with $5,000, $4,200 less than Andrew in second place. She bet $2,500 and thought it was "Buddhism." That was WRONG.
MALTA. show
Britta then found the last Daily Double in "Blue States," going straight to the $1,000 clue. She was now in third place with $2,500, $6,700 behind Andrew's lead. She bet $1,000 and guessed "the sad swamp." That was WRONG.
A map of the 100 Acre Wood describes Eeyore's place as this, as well as "rather boggy and sad." show
Andrew finished in the lead with $16,800. Joel was next with $10,600 and Britta was in third place with $7,100.
NONE of the contestants got Final Jeopardy! right.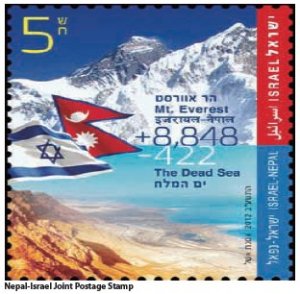 WHAT IS MT. EVEREST AND THE DEAD SEA?
"To celebrate 52 years of cooperation between the countries of Nepal and Israel, the first Nepal-Israel Joint Postage Stamp has been issued. The historical event was held simultaneously in both countries with ceremonies on 4 September. The stamp marks the first time Nepal has issued a joint stamp with another country. Israel has launched other joint stamp initiatives with 15 other countries including; France, Canada, Austria and The Vatican." (Jewish Times Asia)
Britta didn't take a guess and lost her $2,500 bet. She finished with $4,600.
Joel wrote down Mt. Ararat and Mt. Everest, at least that's what Alex said. That cost him $6,200, finishing with $4,400.
Andrew wrote down Mt. Everest and Mt. Sinai. He bet $10,000 but still won the game with $6,800. That brings his 6-day total up to $137,803.