Final Jeopardy: State Quarters
The Final Jeopardy question (5/6/2013) in the category "State Quarters" was:
The back of the quarter for this state is the only one that features a monarch.
Today is the very first match of the 2013 Jeopardy! College Championship Tournament and we'll kick it off with these three college students: Julia Sprangers, a Univ. of Wisconsin-Madison junior from Oshkosh, WI; Jed Silver, a senior at Tufts from the Bronx, NY; and Hannah Schoenhard, a Scripps junior originally from Tulsa, OK.
Hannah found the Jeopardy! round Daily Double in "The Constitution USA." She was in second place with $2,600 when she found it, but a reversal of a prior decision gave her $1,600 more. She was still in second place with $4,200 but now she was only $600 behind Julia's lead. She bet $1,200 and she was RIGHT.
A New London, CT fight over this government power to take private property ended with land seized and nothing built. show
Hannah finished in the lead with $6,400. Julia was second with $3,800 and Jed was last with $1,400.
Hannah found the first Double Jeopardy Daily Double in "European Cities." She now had the lead with $8,000, $3,400 more than Julia in second place. She bet $2,400 and she was RIGHT.
This Bavarian city traces its origins to a Benedictine monastery at Tegernsee. show
Jed found the last Daily Double in "This is Huge." He was now in second place with $7,400, $10,600 behind Hannah's lead. He bet $3,000 and he was RIGHT.
A synonym for "huge" starts the name of this model of large-screen TV developed by Sony & seen in stadiums. show
Hannah finished in the lead with $18,400. Jed was next with $14,800 and Julia was in third place with $10,200.
TWO of the contestants got Final Jeopardy! right.
WHAT IS HAWAII?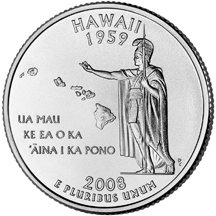 "The reverse of Hawaii's quarter features Hawaiian monarch King Kamehameha I stretching his hand toward the eight major Hawaiian Islands. Inscriptions are the state motto … ('The life of the land is perpetuated in righteousness'), 'Hawaii' and '1959." (TheUS50.com)
Julia wrote down Virginia, then crossed that out and wrote Hawaii. She let out a big sigh of relief when she added $6,200 to her score to finish with $16,400.
Jed wrote down Virginia and that cost him $5,601. He finished with $9,199.
Hannah had it right, too, and bet $8,000 so she won the game with $26,400 so Hannah Schoenhard is our first winner and semi-finalist.