Final Jeopardy: At the Grocery Store
The Final Jeopardy question (4/4/2013) in the category "At the Grocery Store" was:
The National Promotion Board for this food, citrullus lanatus, lists hydration as a primary health benefit.
Our champ Rebecca Rider now has an amazing 5-day total is $101,600. Today she plays her 6th game against these two challengers: Salvo Candela from New York, NY; and Katie Newcomb from Washington, DC.
Rebecca found the Jeopardy! round Daily Double in "Sowing "Otes"." She was in second place with $1,600, $2,800 behind Salvo's lead. She made it a true Daily Double and she had "absolutely no idea." So she was WRONG.
Theodore Roosevelt said this "is like a rifle: it's usefulness depends on the character of the user." show
Katie finished in the lead with $6,200. Salvo was second with $5,400 and Rebecca was last with $600.
Katie found the first Double Jeopardy Daily Double in "She Did It!." She was in second place with $8,600, $4,400 behind Scott's lead. She bet $2,000 and she was RIGHT.
Painted "Pelvis with Moon" in 1943.show
Salvo found the last Daily Double in "Opera." He was in the lead with $17,400, $1,600 more than Katie in second place. He bet $1,400, and he was RIGHT.
In operas by Richard Wagner, Brunnhilde is one of these 9 sisters who are warrior-maidens. show
Salvo finished in the lead with $17,600. Katie was next with $17,000 and Rebecca was in third place with $3,800.
Only ONE of the contestants got Final Jeopardy! right.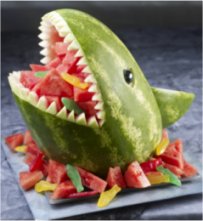 WHAT IS WATERMELON?
One of the fun facts listed on the National Watermelon Promotion Board's website is: "Watermelon's official name is Citrullus Lanatus of the botanical family Curcurbitaceae. It is cousins to cucumbers, pumpkins and squash." Don't miss their Watermelon Carvings page
Rebecca wrote down "orange juice' and bet is all. She finished with zero.
Katie wrote down "grapefruit." She lost her $4,000 bet and finished with $13,000.
Salvo got it right and bet $8,500 so he ended up with $26,100 and he is the new Jeopardy! champ. Double congrats to Salvo for winning and for getting the Final. Super cool!