Final Jeopardy: World Capitals
Today's Final Jeopardy question (1/9/2013) in the category "World Capitals" was:
These 2 world capitals are separated by only 250 miles of land & less than 1 degree of latitude at 59° 17′ and 59° 57′ N.
4-day champ Ashok Poonzhikunnel made a mere $3,400 yesterday, but that $3,400 won the game! Today he takes on these two players: Brett Swartz, from Athens, GA and Kristin Morgan, from Huntsville, AL.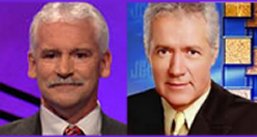 During the chat segment, Brett's resemblance to Alex Trebek came up, and of course Brett's mustache and Alex's old mustache came up, but wasn't Alex's old mustache darker than his hair when it turned grey? Whatever, Brett said he takes such remarks as a compliment and when the round resumed, Alex jokingly called him "Alex."
Ashok found the Jeopardy! round Daily Double in "U.S. Place Names." He was in the lead with $4,200, $1,400 more than Kristin in second place. He bet $4,000, guessed Jimmy Carter but that was WRONG.
Warm Springs, Georgia's airport is named for him. show
And that sure switched up the order of how this round finished. Kristin finished in the lead with $2,800. Brett was second with $2,400 and Ashok was last with $1,200.
Kristin found the first Double Jeopardy Daily Double, a video, in "Outlaws." She was in the lead with $3,600, $1,200 more than Brett in second place. She bet $1,400 and she was RIGHT.
The Younger Brothers, standing, formed an outlaw alliance with these brothers, seated in the photo here. show
Kristin found the last Daily Double in "The London Stage." She had the lead now with $6,200, $3,800 more than Brett in second place. She only felt like risking $800 this time around and she was RIGHT.
In summer 2012 this play based on a movie about 2 British athletes at the 1924 Olympics was off & running. show
And you might have thought Ashok and Brett would never get another answer in for a while there, but they did. Brett took over the lead to finish with $12,800. Kristin was next with $9,800 and Ashok was in third place with $6,400.
NONE of the contestants got Final Jeopardy! right.
According to the online distance calculator, if you are flying from Oslo to Stockholm, you'll cover 259 miles. If you feel like driving, that's going to be 328 miles.
Ashok went farther south with Seoul and Pyongyang. He went totally south with that $6,400 bet and finished with zero. (After what happened, yesterday, we were pretty surprised that Ashok bet it all. What about you?)
Kristin could only come up with one city — Copenhagen. That cost her $3,100 and she finished with $6,700.
Brett didn't write down anything at all. He lost $8,000 so he ended up in second place with $4,800, handing the victory to Kristin.